---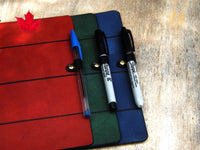 Pen Loop for Travelers notebook cover
Altguild
DO NOT PURCHASE FROM THIS LISTING
Its just a place holder for inventory.
When you purchase a cover. You will have the option to select a pen loop at that time.

Further Details of importance for text stamps and stamp images.
•TIP: avoid placing your stamps or text near the spine of the book as the bending of the leather will cause the marks to fade and or distort.

•In regards to the stamp and text. If you wish anything different then please contact me via conversation, and I will be happy to review it.

•If you wish the stamp in another place, maybe slightly higher or or lower, then please let me know in your note.

•As the text is stamped individually by hand, I am unable to guarantee perfect alignment.
I'm a human being, not a machine. :) (Please refer to images for more info on text limitation.)
Leather details part #1
•The leather we use is taken from the industry where the hide would otherwise go to waste.

We use Full Grain vegetable tanned leather. This is a high quality leather with life and sole.

Full Grain Leather comes from the surface layer of the hide which has ALL of the natural grain, therefore, FULL grain. The natural surface of full grain leather burnishes and beautifies with use.

Being Full Grain leather your notebook cover may or may not have a few small natural wrinkles and imperfections (even more so with this Old Soul) that lend a tremendous amount of character. We do not deal in second grade leather that is also (confusingly named) known as Top Grain Leather.
Leather details part #2
With experience we treat and condition your leather for that luxurious leather feel and all edges are smoothly burnished. You will not get a peace of cardboard. Instead you get a newly created work of art that will change with you over time.

We normally aim to provide an even, natural colouring to your notebook cover. This is not the case with this item. Due to the full grain nature of our leather, plus the style and theme of this cover, it will have shades and discoloration that is either naturally and or purposely designed in to bring out that Old Soul feel.

When it comes to the dyes and conditioners used to treat your leather. Its my belief that if something touches your skin then it better be made with natural and friendly ingredients
How long before I ship
For most covers that are made to order, its about 8-10 business days before I ship. If its a ready made item then about 3 business days.